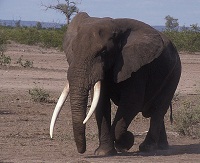 Origin of Name: Pronounced and commonly spelt Shilowa this bull was named by Dr Ian Whyte after the Shilowa koppie situated near the Mozambique boarder, where it was known that a strange man used to live. (Shilowa is the Tsonga word for "the bewitched one")
Range: Mooiplaas and southwards towards the Letaba Restcamp
Special Features: Shilowa had a straight long right tusk and a much sorter left master tusk.
General: Shilowa was regularly seen between 1992 and 1998. His carcass was found by game guards near the Nshawu No. 1 windmill east of Mopani on the 14 April 1998. Johann Oelofse Ranger at Mooiplaas Section at the time did the investigation and estimated that Shilowa had been dead for approximately 5 days and it appeared that he died from natural causes. According to Johann his feet had healed well from the 'sole problems' that had plagued him over the 2 years before his death with scars only being visible on one hind foot.
Shilowa's right tusk had a crack up the length, while the underside had deep reservoir scars unique to Kruger Elephants.
| Tusk Data | Left | Right |
| --- | --- | --- |
| Length (cm) | 215cm | 237cm |
| Mass (kg) | 38.75kg | 47.3kg |
| Circumference at Lip (cm) | 46cm | 47cm |