Completely 4 Season Glamping Tents.
From 6.7 m2 / 73 ft2– 929 m2 10,000 ft2 & larger!
Customizeable for any climate!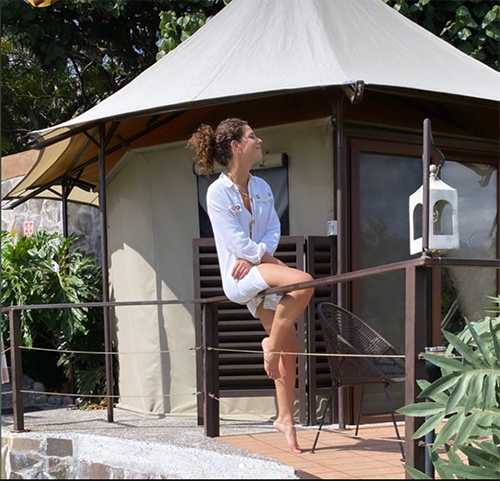 Use our experience to your advantage
Exclusive Tents was founded in 2005, but we have been perfecting our craft since 1984. We are two families that came together to make the most durable and luxurious glamping tents on the market. Every stitch stitched, every piece of canvas cut, and every welded piece of steel is our form of art. To us, these are more than just tents, these are pieces of art crafted from our hands with passion and love. Each tent is so special to us, that we find it difficult to send them off to their new destinations. But as the next set of tents set sail to its new home, whether it be Italy, Australia, New Zealand, Asia, USA, Mexico or wherever, we know we are slowly decorating the earth. With a mission of keeping things eco friendly, with minimal footprint, and integrating nature within our designs, there are an infinite amount of options. With each step forward and every new tent, we are making the world our canvas.
Our goal isn't to become the biggest luxury tent manufacturer in the world, but the best luxury tent manufacturer in the world. We strive to create the most robust, 4 season glamping tent on the market to handle the toughest climates. 
Before we began the project, the client and
I searched for tents that would blend into
and suit the beautiful hilly site which had a natural stream running through it. There were very few suppliers who even came close and in the end, it was Exclusive Tents who was
the undisputed choice. We had an excellent experience working with Brian Grisham who made the whole process so much smoother. I would recommend them in a heartbeat!
It is with much delight that I write to recommend the services (both supply and install) of Exclusive Tents and in particular, Paul Zway.
We have worked with Exclusive Tents for the past 10 years, during which time they have been involved in the supply and installation of 10 tents over three seperate projects on our Property in Morocco over this period.
Exclusive Tents have always maintained open and effective communication through the design and…Read More

Some ten years ago, while designing our 4 Rivers Floating Lodge – which was supposed to float some wooden bungalows – I discovered the beautiful tents of Paul. Majestic, luxurious, easy to install – that was my first feeling, and that made them an obvious choice for 4 Rivers.
Then, I discovered Paul Zway! He is dreaming tents, breathing tents, talking tents. He is loving them so much that you cannot stop listening.
Our relationship started AFTER …
Read More