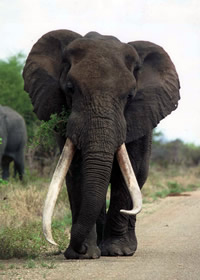 Origin of Name: During 1999 the Field Rangers and Conservation Students at Mooiplaas started referring to this elephant as "Mabarule" after their Section Ranger Johann Oelofse's Tsonga nickname. Johann was so named by his fellow workers due to the size 14 boots in which he patrols his section and after an old Shangaan Chief from the olden days in Mozambique. This Chief Mabarule apparently had conspicuously large feet. (Mabarule meaning 'Big Feet')
Range: Mooiplaas section, Nshawu Vlei/Mopani area, he was regularly spotted at the Mooiplaas, Tihongonyeni, and Bowerskop windmills
Special Features: Mabarule had a straight right tusk, with a shorter curving left tusk. He had prominent worn, upturned and cracked toe nails on both his front feet.
General: Mabarule who was first sighted in the Mopani area in 1999 was a very docile animal who showed little aggression. and over the handful of years that he roamed the Mooiplaas Section a close relationship evolved between this elephant and Section Ranger Johann Oelofse and he came to describe him a true "gentle giant" with extremely little to no aggression in him. Johann Oelofse will often recall many special moments spent in very close proximity to the elephant, with "Mabs", as he would fondly call him, quietly tolerating his presence.
He was frequently seen and photographed by guests. There was initial confusion regarding this bull when he first appeared on the scene, as a similar bull by the name of Hatlani was already roaming in the same area with virtually identical ivory, it took the death of Hatlani on the 16/10/1999 and the movement of Mabarule into the Mooiplaas area to establish that many of the Hatlani sightings were in fact early sightings of Mabarule.
Mabarule died circa 5th November 2004, of apparently of natural causes. His carcass was found on the 10/11/04 with the tusks still in place.
Examination of Bones: An later examination of his bones has revealed arthritic calcification between several of the vertebrae, the joint formed by the skull and the atlas, or first cervical vertebra as well as the fused calcified mass of the 5 neck vertebrae told a tell of what must have been severe pain in his later years. In spite of this, he was an extremely docile elephant who was often seen and photographed by tourists. According to the condition of his molar teeth he was estimated to be between 55 and 56 years old when he died.
One of his more notable habits that was identified after his passing was his continual utlisiing of the cement reservoirs as a drinking source. Most large tuskers cease to use these as a source of water due to the weight of their ivory, however until his death Mabarule continued with this habit and as a result his ivory has well worn flat patches on the underneath due to the abrasive nature of the cement on which he dragged his ivory in order to enjoy a drink of water.
Source: https://www.sanparks.org/parks/kruger/elephants/tuskers/past.php
| Tusk Data | Left | Right |
| --- | --- | --- |
| Length (cm) | 257cm | 278cm |
| Mass (kg) | 48.8kg | 54.2kg |
| Circumference at Lip (cm) | 46cm | 48cm |