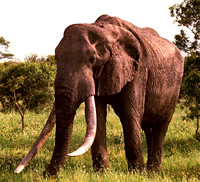 Origin of Name: Phelwana was named by Anthony Hall-Martin when he was seen emerging from the Phelwana stream and tributary of the Timbavati in the central region of the Kruger National Park. (Origin of the name is unknown but was possibly a person of long ago – probably a Sotho person (Kloppers & Bornman 2005).
Range: Phelwana frequented the Kingfisherspruit ranger's section, west of Satara. During the latter part of the 1980's Phelwana adopted the habit of breaking trough the Park's western boundary fence where he was often seen in Manyeleti, Timbavati and other nature reserves.
Special Features: Phelwana has a large round hole on the out edge of his left ear. Phelwana had notable weight to his ivory.
General: Phelwana was first recorded in 1980 during the annual aerial census. He was average sized bull, reaching 325cm at the shoulder and with a forefoot circumference of 152cm. On the 22nd January 1988 game scout Armand Ndhlouvu of the Kingfisherspruit Section reported that Pelwana was in difficulty, noting that he had been shot and that his condition was poor and he could scarcely walk. Assistance was called in and the elephant was darted for examination. A bullet wound from a heavy caliber rifle in the neck region had gone septic, and has also shattered his lower jawbone which made feeding and drinking extremely difficult. There was little hope of saving him and it was agreed to put him down.
Phelwana's magnificent tusks were the heaviest in the collection, together weighing 135.5kg until the inclusion of Mandleve, now the heaviest recorded bull in Southern Africa.
(Phelwane's tusks are on display in the Letaba Elephant Hall)
Source: https://www.sanparks.org/parks/kruger/elephants/tuskers/past.php