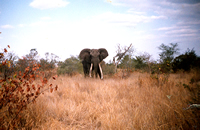 Origin of Name: Named after the Mahlati Stream, a tributary of the Ntshivana, situated in the north of the Kruger National Park. Mahlati was also the name of a chief who lived close to the stream.
Range: South East of Shingwedzi Camp.
General: This bull was first seen at the Mahlati windmill in 1991. And 1992 at the Tsumane windmill by researcher Keith Begg. He was not a well know bull and was rarely seen by guests.
| Tusk Data | Left | Right |
| --- | --- | --- |
| Length (cm) | ? | ? |
| Mass (kg) | ? | ? |
| Circumference at Lip (cm) | ? | ? |
Source: https://www.sanparks.org/parks/kruger/elephants/tuskers/past.php