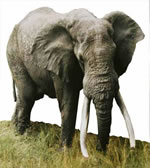 Origin of Name: Named by Anthony-Hall Martin for Prester John, legendary priest-king of ancient Africa. (João being the Portuguese for 'John') João was also to be found near the waterhole of this name along the Shingwedzi River. This waterhole was named in 1961 by Dr Tol Pienaar (former Warden of KNP and CEO of SANParks) after a former mechanic from Shingwedzi who assisted Dr Pienaar with fish surveys along the Shingwedzi River.
Range: João was first seen near a windmill called João, in the Shingwedzi region, he was known to frequent the area south of the Shingwedzi River. There were times however that he moved as far south as Mahlangene and Shilowa (East Mopani).
Special Features: João was a very large bull, with a shoulder height of 340cm.
General: João was wounded by poachers in 1982, at this time he was immobilized to investigate the damage. Fortunately the wounds were not fatal, and after a dose of antibiotics and cleaning of the wounds he was revived. While immobilized he was fitted with a radio collar and measurements of his tusks taken, he tusks were an estimated combined 130kg which at the time would have made him the heaviest ivory carrier of the Magnificent Seven. In 1984 (approximate age, 45 years) João broke both tusks close to the lip line (20-30cm), presumably in a fight with another bull. Unfortunately the pieces were never found and as a result João is the only member of the Magnificent Seven who is not represented in the Letaba Elephant Hall.
Source: https://www.sanparks.org/parks/kruger/elephants/tuskers/magnificent7.php