INDUSTRY INSIGHT: The art of designing safari tents
For more than 16 years, and with international celebrities, boutique resorts and government departments as its customers and friends, Exclusive Tents International has become one of the leading global suppliers of safari style camps and accommodation in every shape and size. Writer Donnie Rust, the founder of Lost Executive, explores the family business…  
This wonderful family business, Exclusive Tents International has reached this level by the simplest approach of style, quality and authenticity and as founder Paul Zway reveals, there is very little stopping them.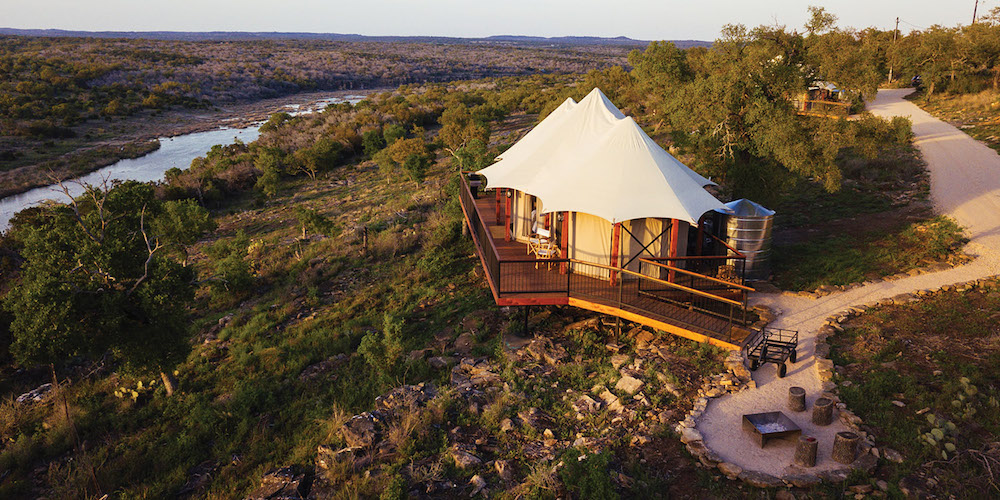 That one inspiring idea
"The creative process begins with getting one solid idea and building on that," Zway explains. "Everything else is just decoration and details until you have that one brilliant and inspiring idea that makes you want to start to build something. That is where everything begins."
This period of the project, where ideas are harnessed, is Zway's favourite part, and has become a fundamental part of his business around which all that Exclusive Tents offer revolves. The man is, by nature, an incredibly forthcoming and friendly person who takes the time to know his clients, his staff and suppliers on a first name basis. He is a man who loves the details of things and thrives on the challenge that an ever increasing and developing hospitality world throw at him and his company.
"Whether a project needs a tent to be constructed entirely from scratch, or if a tent style we already have meets the physical requirements, each and every project is unique because a client's dream is unique. And dreams always come with challenges," he adds. "Some of these challenges can be spotted and solved ahead of time. This is where experience is crucial because it allows us to spot challenges before they become problems for clients. It also makes you very able to handle issues when they pop up unexpectedly."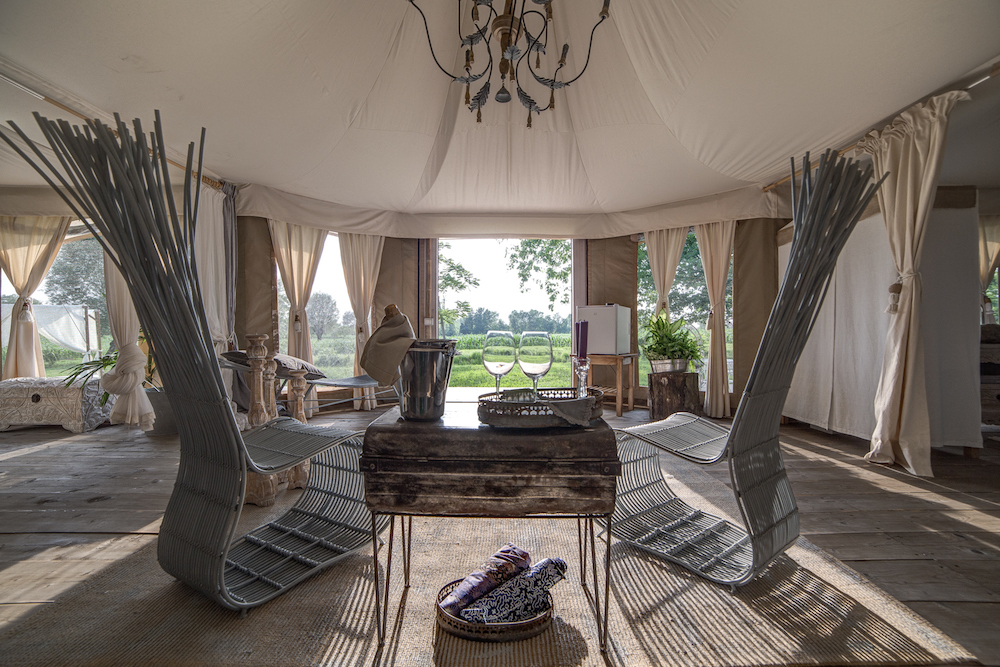 Living the life
Clients of Exclusive Tents International have described the company with words such as "industry leader" and "pioneer" and they have the results to back up such praise. They've been involved in designing and setting up tent structures for as varied a client base as glamping sites, safari lodges, five star award winning hotels and environmentally fastidious eco-lodges.  It could be argued that their "never say never" approach to challenges has helped such industries as glamping and safari to reach their lofty standards on "out-of-the-ordinary-accommodation". An entire industry has sprouted around the idea that safe, eco-conscious and versatile accommodation can exist anywhere on the planet and one man's inability to turn down a challenge is partly to blame.
This may seem hyperbolic, but Zway spends a great deal of time flying across the world and speaking to CEOs, hospitality moguls and millionaires who have an idea that seems impossible but they want it made into reality.
"You can never mislead a client or tell them something can be done just to make them happy," he says, "Truth and transparency is something my whole company values. However, you have to believe that there is a way to get to the end result. It may take a bit longer than a client would like or it may be more expensive, but there is always a way."
Zway has spent most of his adult life in or around tents. As a professional game ranger specialising in anti-poaching, a career he devoted seventeen years of his life to, he spent many nights sleeping in tents. Some would say that the founding of Exclusive Tents International was almost inevitable. His son, Zane, is also a vital part of the business which revolves around thinking differently and always looking at things from a different perspective.
"This is why we can offer revolutionary designs and superior products," Zway explains, "We all travel extensively and I live in one of my own tents! So, call it an insider's perspective, but while a client may be thinking of their vision we're thinking about the material needed to survive the weather conditions, or what sort of wear and tear can be expected. How will all the details affect the final result and how well it will age?"
It's no surprise that the company offers over sixty designs and customisable options which is one of the largest selections in the market today. Always fabricated with the finest materials, erected with the best expertise and then backed up with the best after-sales service. Something that he is proud of is that their products are not produced on a soulless conveyer belt and that he has been able to craft a business where quality and that personal touch counts for so much.
"We've never had a problem with aftersales service," Zway remarks, "We treat our clients like family and every client feels that they've got the full strength of Exclusive Tents International behind them. Every one of our engineers, interior designers, architects, set up specialists and consultants are there for them to see their vision through."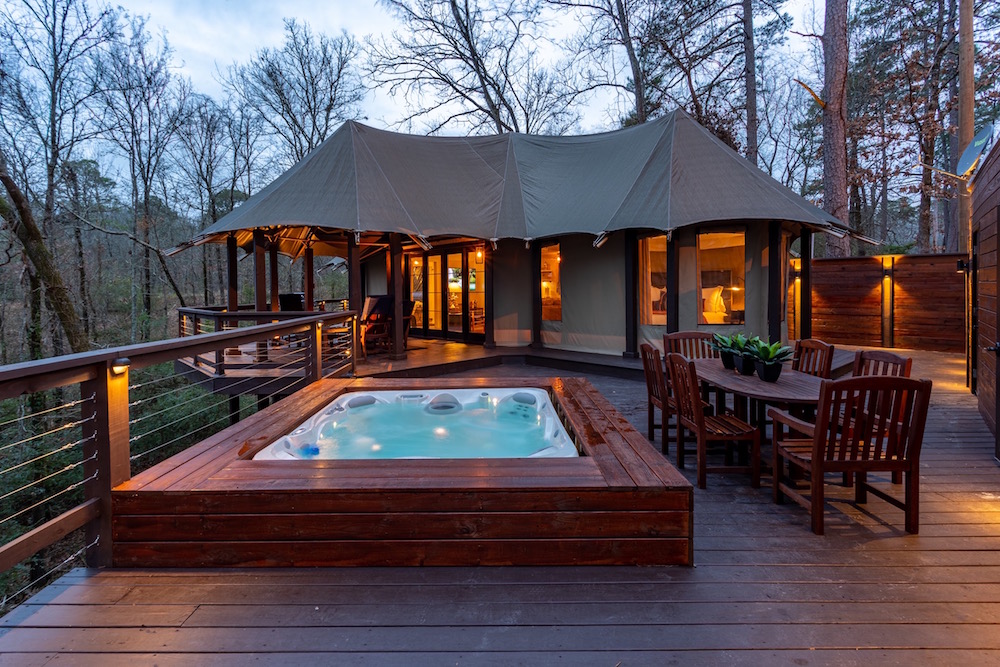 Bringing people and nature together
"There is a romance that comes with sleeping in a luxury tent that you will not find anywhere else," Zway says, "It can bring you right up against nature without actually dropping you in it."
The ultimate 'have your cake and eat it' scenario, Paul is passionate about helping people connect with nature and to better understand their parts of the world. He reveals that a big part of his business has always been to find ways of marrying living spaces with nature and the environment. He believes that this is a fundamental human need that we naturally seek out whenever we can and that industries like glamping were destined to grow. Glamping offers peace, space, tranquility and the chance to connect with nature without being engulfed in a crowd.
Thanks to this he believes that these boutique and creativity-driven sectors like glamping and eco-camping, are in a great position to see a resurgence of popularity post Lockdown that will outclass other groups in hospitality.
"Travel is going to be centred around escaping cities and apartment buildings for a while with people wanting to get back into nature," he says, "Glamping offers a great chance for this to happen as well as offering the freedom of space."
Additionally, thanks to many glamping sites promoting privacy and solitude as part of their offering, Paul points out that social distancing will be able to be affected without seeming to be enforced.
"People will be able to enjoy open space, reconnect with nature and spend some precious time looking up at that massive sky and just breathe in the fresh air," he says.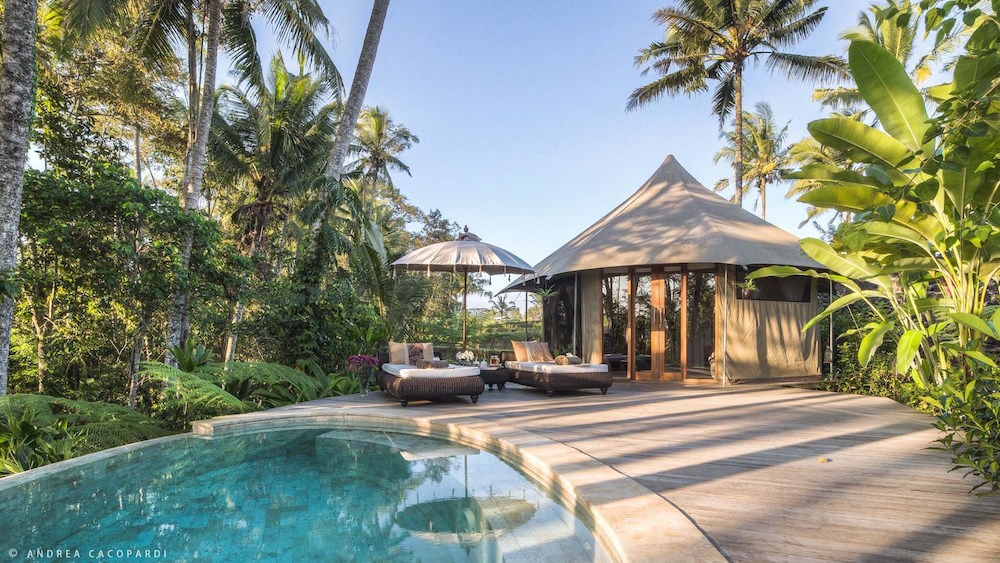 New designs
Innovation as a tool to meet a client's current needs and to predict and prepare for their future ones is important. Zway is a big advocate for natural product evolution and change based upon the research and responses from clients. He is also a big believer in making hay while the sun shines. During Lockdown they made time to innovate and craft a new family tent design that has a new look and feel. The tent, named Mabarule after one of the legendary wild African elephants will be available by the end of May and it's going to be a gamechanger.
In the same regard as this period has all been about keeping the family safe Marabule is a continuation of that. Paul explains that they have the most robust roof frames on the market to handle snow and wind loads and the best performing acoustic and thermal insulation available. Master planning and expert interior design is available for the inside living space which also comes with a number of containerised solutions including hybrid power, kitchens, sanitation, water purification and desalination.
"Marabule really is a masterpiece, and a credit to the incredible resilience and flexibility of the Exclusive Tents team," Zway says, "There is an endless list of innovation that has gone into this new design which has made it easier to erect yet more secure. The metal components are even more rust resistant yet still being aesthetically pleasing. The material is completely flame retardant and, using unique sandwiching techniques is extra insulated to keep out the elements and keep the comfort in. It is a marvellous accomplishment by a team I am very proud to be involved with."
Exclusive Tents International is one of the brands that has taken advantage of our Industry Support Package. To keep up to date with supplier news, click here. And, if you are interested in also benefitting from this three-month editorial package, please email Katy Phillips by clicking here.